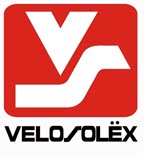 VéloSoleX is a moped/motorised bicycle, which was originally produced by the French manufacturer Solex, based in Paris, France. The company manufactured centrifugal radiators, carburetors, and micrometers, before branching into assist motors and bicycles. Owned successively by Dassault, Renault, and Motobecane/MBK, VéloSoleX sold more than 7 million units worldwide before ceasing production in France in 1988. Production of the VéloSoleX restarted in both China and Hungary after 1988, but production ceased in Hungary in 2002. VéloSoleX is now manufactured in France.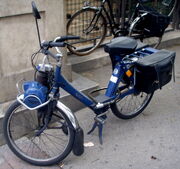 The Solex motorized bicycle was conceived during World War II and marketed in 1946, with eight million being sold between 1946 and 1988 in France and internationally, having been marketed in some 70 countries. The French design ceased production in 1988. It lived on for almost two decades as a licensed design produced in China and Hungary. Production returned to France in 2005, and as of 2011 the S4800 model being marketed by VeloSolex America in North Bergen, NJ. As of 2011, the French company's moped product is the
e-Solex 2.0
, a battery-powered bicycle.</p>
Ad blocker interference detected!
Wikia is a free-to-use site that makes money from advertising. We have a modified experience for viewers using ad blockers

Wikia is not accessible if you've made further modifications. Remove the custom ad blocker rule(s) and the page will load as expected.